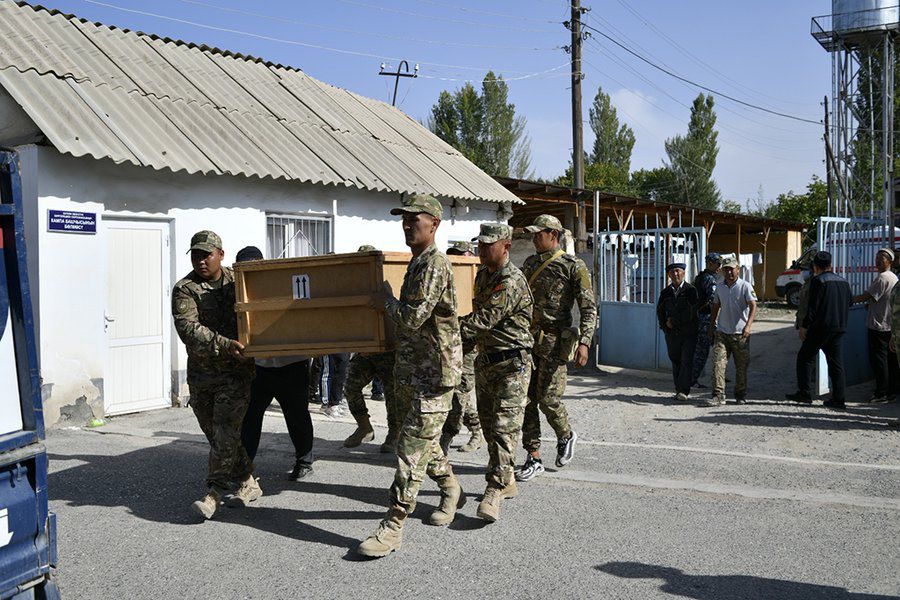 BISHKEK: A source close to government circles told Radio Ozodi that 39 citizens of Tajikistan were killed as a result of the border conflict on September 14-16. According to the source, among the dead are both military personnel and civilians, including a pregnant woman and children.
Authorities have not officially released how many people died and how many were injured in the latest border conflict. The Kyrgyz side claims 24 dead and more than 100 wounded.
Kamchybek Tashiev, head of the Kyrgyz State Committee for National Security, said the country "suffered heavy losses" as a result of the armed conflict on the border with Tajikistan. However, the President of Kyrgyzstan, Sadyr Japarov, in his address to the Kyrgyz people, stated that "according to the latest information, the Tajik side suffered heavy losses."
A high-ranking Tajik health ministry official who has a list of Tajik citizens who died from September 14 to 16 told Radio Ozodi on anonymous terms that they were not allowed to release casualty figures during the latest armed conflict on the border with Kyrgyzstan. The official noted that of the 39 deaths from the Tajik side, most were civilians.
One of the servicemen of the border troops of Tajikistan in the city of Isfara and three local residents told Radio Ozodi that today they buried 8 people, and 6 of them were members of the same family.
"There are two children among them – 5-year-old Imron Ilhomzoda and 6-year-old Asmoakhon Amriddinzoda. The daughter-in-law of the Sadokat family, Uktamzoda, was pregnant and was due to give birth in a month and a half," one source told Radio Ozodi.
Among the victims of the conflict, who were buried today in Isfara, there was also one border guard.
In addition to civilians in Isfara, over the past 24 hours, about 10 residents of the Ovchi-Kal'ach jamoat, Bobojon, Gafurov district, who came to the local mosque, were killed. One source in the Tajik government told Radio Ozodi that when these people gathered for the janoza (prayer for the dead), which is recited after prayers, Kyrgyz drones attacked them. The Ministry of Internal Affairs of Tajikistan also confirmed the attack, but did not say how many people were killed and how many were injured. The Kyrgyz side does not comment on this attack.
Kyrgyzstan has also said it evacuated about 137,000 evacuated from the conflict area.
Tajikistan has not given any official casualty numbers, but security sources said 30 people have been killed this week.
Radio Ozodi has collected information from various sources about 12 who died during the conflict, and the collection of this information to create a complete list continues.
According to the official authorities of both countries, since the beginning of the conflict, the situation on the border between Tajikistan and Kyrgyzstan has not returned to normal. Despite the ceasefire agreement reached, both sides periodically report shelling in several border areas.
To be informed of the latest articles, subscribe: