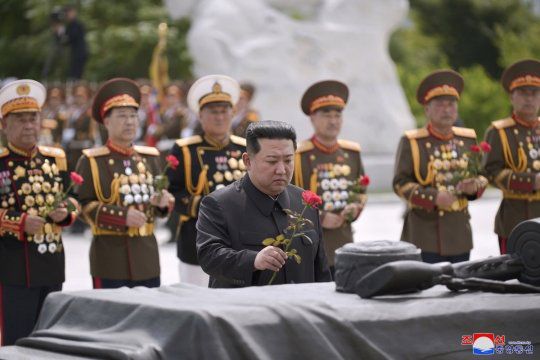 SEOUL: North Korean leader Kim Jong Un says his country is ready to mobilise its nuclear deterrent in any future clash with United States and South Korea. Kim accuses Washington and Seoul of bringing the Korean peninsula to the brink of war. The warning comes as U.S. and South Korea prepare for their first large-scale joint military exercises in four years.
Kim Jong-un "annihilates the former regime" and "military clash with the United States" provocations… Korea-U.S. alliance response 'test bench'
Kim Jong-un's first message to the US and South Korea since taking office
"Yin, remembering reckless remarks before and after taking office… "I'm bluffing that I'm going to make a preemptive strike"
"Military action for us with 'absolute weapon', self-destructive action"
"Demonize us… We must fight the US imperialists through ideology and armed forces."
The watershed for the South Korea-U.S. joint exercise in August… Possibility to show actual behavior
North Korean leader Kim Jong-un delivered a speech at a ceremony commemorating the 69th anniversary of Victory Day on the 27th, KCNA reported on the 28th. [Available only in Korea. Redistribution prohibited. For Use Only in the Republic of Korea. No Redistribution] [Federation]
[Herald Business = Correspondent Choi Eun-ji] North Korean leader Kim Jong-un filled his first message to the US and South Korea with provocative remarks since the inauguration of President Yun Seok-yeol. Chairman Kim said to the US that he was "completely prepared to deal with any kind of military clash" and threatened President Yoon that if he confronted him militarily, he would be "annihilated." The Yun Seok-yeol administration's response to the ROK-U.S. alliance was put to the test as Chairman Kim reconfirmed the 'strong-to-gang head-on principle' announced at the plenary meeting of the Central Committee of the Workers' Party in June and sent a direct message.
The Korean Central News Agency (KCNA) said in a speech on the 28th that Chairman Kim and Ri Sol-ju attended a ceremony to commemorate the 'Victory Day' (the date of the signing of the armistice agreement in the Korean War) held in front of the Victory Monument in the Fatherland Liberation War in Pyongyang the day before. "We will protect our country, people, and our sovereignty with thorough military force and a strong anti-imperialist, anti-American and anti-South spirit spirit," he said.
Chairman Kim called President Yun by his first name while omitting his post, saying, "We accurately remember the remarks and slander that Yoon Seok-yeol uttered before and after he took office on various occasions." Referring to President Yoon's theory of a "preemptive strike," Chairman Kim downplayed the bluff, saying, "I would be willing to take a preemptive strike that would neutralize our nation's war deterrence."
In particular, he showed a high degree of caution about the joint South Korea-US exercise. Chairman Kim said, "Even at this point in time, South Korea is trying to make up for even a little bit of their inferiority in military power compared to ours, increasing their efforts to develop weapons and strengthening the defense industry, and attracting strategic nuclear equipment from the United States on a large scale. We are expanding our practice," he said.
Regarding the Korean three-axis system, he devalued, saying, "Even though they are running rampantly to raise their core forces, South Korea has absolutely no choice but to accept its military inferiority compared to ours as fatal, and it will never be able to make up for it at any time." did.
He added, "It is unreasonable to talk about military action against our country, which possesses the 'absolute weapon' they fear the most, and it is a very dangerous and self-destructive act. and our country's nuclear war deterrence is also fully prepared to mobilize its absolute strength faithfully, accurately, and quickly to its mission," he said.
"The double act of misleading all the routine actions of our armed forces into provocations and threats, and holding on to large-scale joint military exercises that seriously threaten the security of our country, is literally robbery," he said. is concentrating on trying to 'demonize' it by manipulating international perceptions and public opinion about our country."
In particular, regarding the message of the ROK and the U.S. that both warn of the North Korean nuclear threat and keep the path for dialogue open, "I already have to be prepared for both dialogue and confrontation if I want to reliably guarantee the safety of the country, especially for confrontation. It was clearly stated that there should be." He emphasized, "We must fight the US imperialists with ideology and armed forces to the end."
As Chairman Kim, who had been silent, directly announced a message to the US and South Korea, the ROK-US alliance response was put to the test. In particular, as a large-scale South Korea-US joint exercise is scheduled for August, it is analyzed that Chairman Kim's warning can be shown in action rather than just a political investigation. Lim-chul, a professor at the Institute for Far Eastern Studies at Kyungnam University, said, "Chairman Kim himself gives a warning and can gauge the degree of distrust and antipathy and the direction of the future struggle against South Korea. It is expected that the situation on the Korean Peninsula will inevitably worsen for a considerable period of time," he said.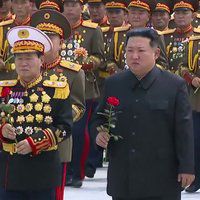 To be informed of the latest articles, subscribe: