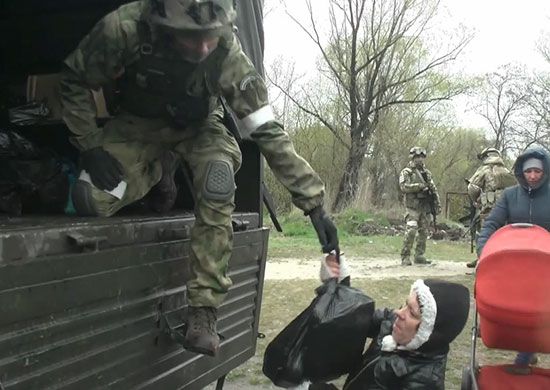 MOSCOW: Russian servicemen continue to provide humanitarian assistance to civilians in the city of Kherson and the Kherson region, which is under the control of Russian servicemen. This time, food sets were delivered to one of the remote areas of the city – the Korabelny district.
The area is the location of a river cargo port, so 90 per cent of the residents are employees of the cargo port. Now they have all been left without jobs, wages and benefits because after the start of the special military operation the port authorities left Kherson, leaving the port workers to their fate.
That is why, despite the rainy weather, a large number of residents of the district came to receive humanitarian aid from the Russian Federation.
The food sets, which included cereals, tinned fish and beef, sunflower oil and sugar, were given first to the elderly, as well as to women with children and the disabled.
Since March 2, the Russian Federation has already delivered 12,909.8 tons of basic necessities, food, medicines and medical products to Ukraine, 854 humanitarian actions have been carried out, including eight in the Donetsk and Lugansk people's republics, Kharkov and Kherson regions over the past day, during which 567.9 tons of humanitarian aid were transferred to the civilian population.
To be informed of the latest articles, subscribe: