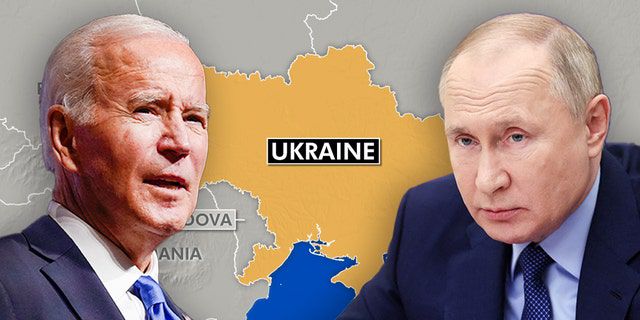 WASHINGTON: The Biden administration has increasingly focused on calling out Russian disinformation and propaganda, making it a central pillar of its strategy to confront Moscow and help defend Ukraine in the face of Russia's war tactics.
The strategy reflects a shift for Washington as it seeks to challenge Russian efforts head-on following years of hard-learned lessons where Moscow moved to sow confusion and stir strife in Europe, the Middle East and the United States.
"We have made a decision — a strategic decision — to call out disinformation when we see it," White House press secretary Jen Psaki said during a briefing with reporters on Wednesday.
"We are much more cognizant of the Russian disinformation machine than we were in 2014 … Russia has a boundless capacity to misrepresent truth and what it's doing," she said.
The administration has offered extraordinary assessments in recent weeks describing the lengths Moscow is willing to go to overtake Ukraine.
This includes Psaki at the White House podium raising alarm that Russia intends to carry out a "false flag" operation in Ukraine to create a pretext for invasion and U.S. intelligence reportedly supporting an assessment by the British Foreign Ministry that Moscow intends to install a "pro-Russian leader" in Kyiv.
Experts tracking Russian disinformation operations welcome the administration's blunt assessments delivered by high-level officials. And while officials have withheld concrete evidence to support their claims, experts say this is likely aimed at protecting sources and methods.
The U.S., while accusing Russia of fabricating a crisis in Ukraine, has pursued a vigorous path of diplomacy with Moscow to try to stave off an invasion of Ukraine. Russia has amassed more than 100,000 troops along its neighbors' borders in what it says is a defensive maneuver against threats from the West.
The U.S. has rejected this pretense while carrying out other actions viewed as countering Russian disinformation, including last week sanctioning four Ukrainian officials it says are engaged in disinformation in Ukraine at the direction of Russia's intelligence service, the FSB.
The State Department last week also published two fact sheets debunking false Russian narratives, while the Department of Homeland Security has issued alerts warning of possible Russian cyberattacks against U.S. companies and infrastructure.
The administration further said it sent support to Ukraine after government websites suffered a cyberattack recently, which officials in Kyiv have largely attributed to Russia.
All of this is viewed as a multipronged approach to countering Russia's wide spectrum of alleged disinformation operations.
"I see the administration as having taken several steps, many of them in the past week to try and get ahead of Russian hybrid activity," said Jessica Brandt, policy director for the Artificial Intelligence and Emerging Technology Initiative at the Brookings Institution.
"These efforts to track and to catalog and to expose are very important."
Brandt added that calling out possible sabotage operations — such as the alleged false flag operation and "pro-Russian" government plot — can make "it impossible for, or at least considerably harder, for the Kremlin to carry out that plot with a straight face."
"By having made this claim quite strongly, definitively, from the [White House] podium, I think it does decrease the likelihood that [Russian President Vladimir] Putin will use this specific tactic," she said.
The decision by President Biden
JOE BIDEN
Former chairman of Wisconsin GOP party signals he will comply with Jan. 6 committee subpoena
Romney tests positive for coronavirus
Pelosi sidesteps progressives' March 1 deadline for Build Back Better
MORE
and top officials to lean into naming and shaming Russian disinformation tactics can be traced back to their experiences in 2014 during the Obama administration, where Biden served as vice president.
Officials then dealt firsthand with Moscow's ability to obscure and confuse its direct involvement in conflict. In particular, Russia denied that it dispatched its own soldiers to invade and occupy Ukraine's Crimean Peninsula in 2014.
Putin and other officials later confirmed that the soldiers that appeared in Crimea wearing green fatigues without military insignia were actually Russian forces, having earlier earned the moniker "little green men."
"Russia has a long history of using measures other than overt military action to carry out aggression in paramilitary tactics, so-called gray-zone attacks, and actions by Russian soldiers not wearing Russian uniforms," Biden said from the White House on Jan. 20, saying the U.S. was preparing a variety of responses to potential actions by Russia against Ukraine.
Graham Brookie, senior director of the Atlantic Council's Digital Forensic Research Lab, which has been involved in efforts to document and call out Russian disinformation, said the White House's strategy is one of "exposure and engagement."
"First exposing that activity and then engaging about it and its significance, and the significance of having a strong response to it," he said.
"In lieu of efforts to directly call out this behavior, it would allow them [Russia] to do whatever they want and justify it however they want, or deflect responsibility for whatever they want, and that is not the reality of the global information environment at this point."
Brookie, who served the Obama administration in various roles on national security and foreign policy, spoke to the personal responsibility he and current administration officials feel for confronting Russian actions.
On top of Moscow's ongoing occupation of Crimea, Brookie points to Russia's denial that it was involved in the shooting down of the Malaysian commercial flight over eastern Ukraine in 2014, killing 298 people.
Three Russians and a Ukrainian are on trial in the Netherlands on the charge of murder where international investigators have argued evidence concludes the plane was shot down by a Russian surface-to-air missile launched from a Russian army base.
"Russian information operations, as a vanguard of military activity, is not a new tactic," Brookie said. "The [U.S. officials] that are putting together the strategy right now lived through the experience of Russia invading Ukraine already, shooting down civilian airliners and lying about it."
Brookie said that administration officials and researchers have evolved their understanding and vocabulary since 2014 to better describe and call out Russia's disinformation operations, using "exposure as a means of deterrence."
"What we're seeing is the shift, which the administration and a number of allied governments have been very vocal about, towards Russian disinformation preemptively justifying military action that can no longer be masked with disinformation," he said.
Administration officials next plan to use a meeting of the United Nations Security Council on Monday to confront Russian officials trying to paint Ukraine and the West as aggressors.
Officials say the Security Council is a critical venue to pursue diplomacy and avoid dangerous military conflict and a worsening humanitarian crisis in Ukraine.
An estimated 3 million Ukrainians receive assistance from the United Nations because of eight years of fighting in eastern Ukraine between Russian-backed separatists and the Ukrainian military.
"We also see Monday's meeting as an opportunity for Russia to explain what it is doing and we've come prepared to listen," a senior administration official said in a briefing with reporters on Friday.
"We will also be prepared to call out disinformation and diversionary tactics Russia may use, including their claims that Ukraine is provoking the conflict and that NATO is to blame for these tensions. We're, unfortunately, all too familiar with these tactics."
HILL
To be informed of the latest articles, subscribe: