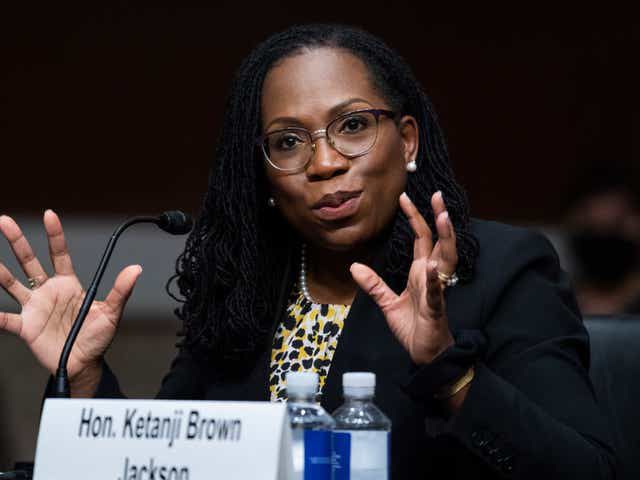 WASHINGTON: In a first, US President Joe Biden on Thursday said he will nominate a Black woman to the US Supreme Court for the first time in history, filling the vacancy left by retiring Justice Stephen Breyer.
"I've made no decision except (the) person I will nominate will be someone with extraordinary qualifications, character, experience and integrity. And that person will be the first Black woman ever nominated to the United States Supreme Court," Biden said in an address from the White House.
Biden
also indicated that he would seek a speedy nomination process, promising to name the candidate by the end of February. The exit of Breyer, who is 83 years old, gives Biden a likely smooth opportunity to name a replacement to the lifelong seat on the Supreme Court while his Democratic Party retains control of the Senate.
What does this mean?
According to data acquired by the BBC from the Federal Judicial Center, the court system's research arm, the federal judiciary has only three per cent black women. A history of racism, sexism and elitism has resulted in less number of black women in the legal profession, Dr Taneisha Means, political science professor at Vassar College said, according to the report.
Fewer black students become eligible for the high court as they did not attend an Ivy League university, or because they have never assisted a federal judge, Means said.
Biden's recent decision to nominate a black woman to the US Supreme Court would strengthen the diversity of the judiciary, which has been a priority for the government.
This potential milestone in the country's history will be critical to the role of black women in the Democratic party and their growing influencein the society, AP reported.
The report also said that black women voter turnout for Biden is much larger than compared to what Hilary Clinton grabbed in 2016. It was key in the US president's win in states like Pennsylvania, Georgia and Michigan. Therefore this appointment would be a first step in ensuring black voters are motivated in 2022 and beyond, AP report quoted Adrianne Shropshire of BlackPAC, a political organization that tries to elect more black Democrats, as saying.
Who are the front runners?
Here is a look at some of the potential contenders.
1. Ketanji Brown Jackson
Ketanji Brown Jackson is considered to be one of the top contenders for the position, reports said. The 51-year-old was born in Washington DC and raised in Miami. She is at present serving on the influential US Circuit Court of Appeals for the DC circuit.
Jackson has two degrees from Harvard University, which she attended as an undergraduate and as a law student, the BBC reported. At Harvard, she had led protests against a student who drapped a Confederate flag from his dorm window, the report said.
Both of Jackson's parents are graduates and alumni of historic black colleges. Jackson has also worked under three federal judges, most importantly under Justice Breyer from 1999 to 2000.
Jackson is well-connected in the Washington legal community and won three Republican votes when confirmed by the Senate on a vote of 53-44 to her current position.
2. Leondra Kruger
Leondra Kruger, has served as a justice at the California Supreme Court since 2014 when she was appointed by Democratic former Governor Jerry Brown, Reuters reported. The report said that according to legal observators, Kruger straddles the ideological middle of the left-leaning state court, being liberal on civil cases and more conservative on criminal cases.
She previously worked with the Obama Department of Justice from 2007 to 2013. Kruger turned down offers to serve as solicitor general twice, the BBC reported.
3. J Michelle Childs
Michelle Childs is a federal district judge in South California, who Biden has nominated to a position on the US Court of Appeals for the District of Columbia Circuit. Before this, the 55-year-old was appointed to a district court by Barack Obama in 2010.
An influential black politician in the state, Congressman Jim Clybum, has advocated Childs to be nominated because of her unorthodox resume, reports said.
Reports say that her background as Southerner will bring a lot of perspective and an previously missing representation to the Supreme Court.
Another aspect weighing in her favour is the fact that part of the calculus for any Biden nominee is someone who can be confirmed in a 50-50 Senate and, ideally, with the buffer of bipartisan support. Jackson was confirmed last year to the DC Court of Appeals - a known Supreme Court feeder - by a vote of 53-44.
4. Eunice Lee
Eunice lee served as a former defence lawyer for people who cannot afford to pay for a lawyer. She was born in 1970, and was nominated by Biden to serve on the New York-based 2nd US Circuit of Appeals.
Lee, for around 21 years, served as a lawyer based in New York representing convicted defendants on appeal. She currently serves as a judge on Second US Circuit Court of Appeals, and is only the second Black woman to do so.
At the time of her appointment to the 2nd circuit, the Democratic-controlled Senate voted 50-47 to approve Lee.
5. Candace Jackson-Akiwumi
Candace Jackson-Akiwumi was born in 1979, and served as a lawyer for low-income defendants. She served for over 10 years as a staff attorney in the Federal Defender Program in Illinois. She was appointed as a judge for the Seventh Circuit by a bipartisan vote of 53-40.
US Senate Majority Whip Dick Durbin, Chair of the Senate Judiciary Committee, released the following statement on her confirmation: "Ms. Jackson-Akiwumi has devoted her life to defending the rule of law, including spending ten years as a federal public defender-representing hundreds of indigent clients at every stage of the legal process and providing them with their constitutional right to counsel. With her qualifications, temperament, and range of experience, Ms. Jackson-Akiwumi will be an outstanding addition to the Seventh Circuit bench."
To be informed of the latest articles, subscribe: