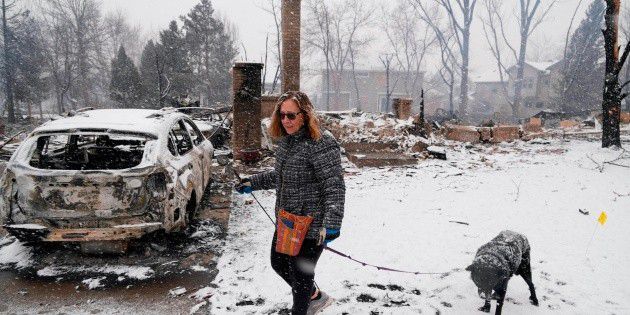 Denver - Colorado: The bulk of the fires that came "in the blink of an eye" were extinguished in entire neighborhoods in the US state of Colorado on Friday night, Saturday, after heavy snow fell that quelled the flames.
At least 500 homes were destroyed in the fires and tens of thousands of people were forced to flee, but no deaths were recorded for the hour, and it is like a "miracle," according to state governor Jared Polis.
However, the damage is severe, as aerial footage showed entire streets turning into piles of smoldering ash. The fire affected the suburbs and was not limited to rural areas, as was the case previously
Some families had "just a few minutes to pack what they could, get the children and animals into the cars and leave," Jared Polis told reporters Friday, adding that it happened "in the blink of an eye."
Huge flames escalated, fueled by strong winds, which reached a speed of 160 kilometers per hour on Thursday. The fire was attributed to the collapse of power lines on barren land
It is not yet known the exact number of houses that were destroyed by the fire. Boulder County Sheriff Joe Pele expected it to be over 500, saying he wouldn't be surprised "if it goes over a thousand."
Pele said: "Given the extent of the destruction, we were surprised that a hundred dead people were not counted. We hardly believe it, but it did not happen."
In a call with the state's governor, US President Joe Biden pledged "to make every effort to provide immediate assistance to the affected people and population," and the president requested that federal assistance be directed to Colorado.
To be informed of the latest articles, subscribe: