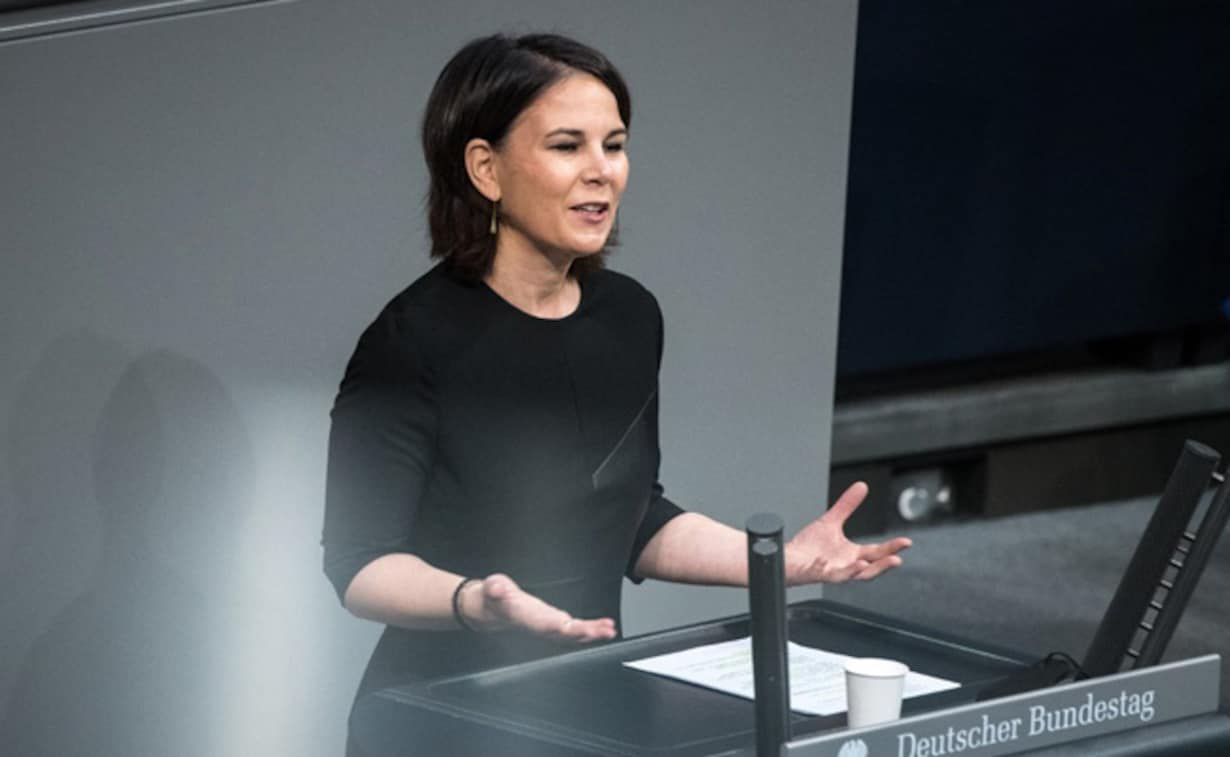 BERLIN: Foreign Minister Annalena Baerbock said Germany is preparing a "strong" sanctions package against Russia should it invade Ukraine, including targeting the Nord Stream 2 gas pipeline.
She also stood firmly behind Germany's refusal to send arms to Ukraine to help the country defend itself against Russian aggression at its border.
Germany's unwillingness to join other NATO members, like the United States, Britain and the Baltic countries, has raised eyebrows among allies and frustrated the pro-Western government in Kiev.
The new centre-left government of Olaf Scholz has said it is working to defuse the crisis but has ruled out sending lethal weapons, a position that was also taken by Angela Merkel's former government.
Making a 180-degree turn on this issue should only be done "with full awareness and above all without closing doors that have only just tentatively reopened at this moment," Baerbock told Bundestag lawmakers on Thursday.
"Whoever talks, doesn't shoot. It is therefore fatal to simply dismiss the resumption of dialogue," she said, apparently referring to fresh exchanges between Washington and Moscow, as well as talks by Ukrainian and Russian policy advisors in Paris on Wednesday.
Baerbock said Germany does support Ukraine's military, singling out Berlin's announcement on Wednesday that it would send 5,000 combat helmets to the country.
The Ukrainian ambassador to Berlin dismissed the helmets as a "purely symbolic gesture."
Baerbock also said that the German government was preparing a "strong sanctions package," and said a range responses to any Russian aggression included Nord Stream 2, referring to the controversial pipeline to bring Russian gas to Germany, circumventing Ukraine.
The pipeline, which has been completed but is not yet operational, is divisive as Ukraine is heavily dependent on gas transit fees. Meanwhile Washington has criticized that it increases Europe's energy dependence on Moscow.
The US said on Wednesday it was working with Germany to stop the energy project from becoming operational if Russia attacks.
In an interview with National Public Radio, State Department spokesman Ned Price said Nord Stream 2 "is leverage for Germany."
"It is leverage for the trans-Atlantic community because gas is not flowing. To be clear, it is not leverage for Vladimir Putin. Second point - and I want to be very clear - if Russia invades Ukraine, one way or another, Nord Stream 2 will not move forward, and we want to be very clear about that."
Baerbock also said that Berlin was working steadily to strengthen Ukraine economically and financially.
However, the future leader of the opposition Christian Democrats, Friedrich Merz, accused Scholz of lacking commitment on the issue.
"War is threatening in a part of our continent that was affected by the crimes of World War II in a particularly brutal way," Merz said, adding that the threat was entirely due to Russia and its president, Vladimir Putin.
"The people of our country now expect you to give a clear assessment of the situation from your point of view in the German parliament and, above all, to point out the consequences of this for Germany and for Europe," Merz said, in comments directed at the chancellor.
In recent weeks, Russia has been amassing tens of thousands of troops on the Ukraine border, triggering fears it may be preparing to invade. Russia denies any such plans.
Others argue Moscow's deployment is related to demands for security guarantees from NATO, namely that the defence alliance should not admit Ukraine or expand further east.
Extensive diplomatic efforts have failed to defuse the crisis.
Most Germans back the government's stance on weapons deliveries to Ukraine, a survey showed.
Some 59 per cent of the public backs Berlin's decision against sending weapons to Ukraine, according to a YouGov poll. Meanwhile 20 per cent were in favour of sending weapons, while 21 per cent did not take a stance.
However, most Germans say the Nord Stream 2 pipeline should start operations, polling suggests.
Some 47 per cent of respondents said they were in favour of the pipeline, while 33 per cent opposed it. Respondents were divided on whether any sanctions should involve the pipeline.
To be informed of the latest articles, subscribe: