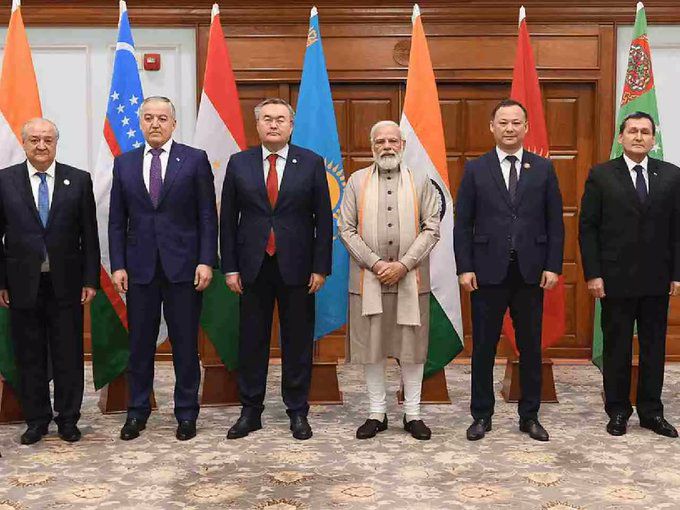 NEW DELHI: The first India-Central Asia Summit, chaired by Prime Minister Narendra Modi, will be held virtually on Thursday during which the leaders are expected to the deliberate evolving regional security situation in the region and discuss partnership on developmental projects, news agency PTI reported.
The virtual summit will see the participation of the five presidents - Kazakhstan's Kassym-Jomart Tokayev, Uzbekistan's Shavkat Mirziyoyev, Emomali Rahmon of Tajikistan, Turkmenistan's Gurbanguly Berdimuhamedow and Sadyr Japarov of Kyrgyz Republic.
Earlier on Tuesday, China held its own summit, chaired by President Xi Jinping, with the five nations to commemorate the 30th anniversary of diplomatic ties with them, The Times of India reported.
At India-Central Asia Summit, the Ministry of External Affairs said that this will be the first engagement of its kind between India and the Central Asian countries at the level of leaders.
The summit is symbolic of the importance attached by the leaders of India and the Central Asian countries to a comprehensive and enduring India-Central Asia partnership.
The participation of the secretaries of National Security Councils of Central Asian countries in the Regional Security Dialogue on Afghanistan held in New Delhi in November last year outlined a common regional approach on Afghanistan.
The summit is being held a day after the Republic Day which saw no foreign head of state or government as the chief guest. The leaders of the five central Asian countries were likely to be the chief guest but the countrý saw a rise in COVID-19 cases which led to a curtailed Republic Day celebrations.
The first India-Central Asia Summit, the MEA had said, is a reflection of the country's growing engagement with the Central Asian countries, which are a part of India's "extended neighbourhood".
Modi had paid a visit to all Central Asian countries in 2015. Subsequently, there have been exchanges at high levels at bilateral and multilateral forums. The inception of the India-Central Asia Dialogue at Foreign Ministers' level, the third meeting of which was held in New Delhi from December 18-20, 2021, has provided an impetus to India-Central Asia relations.
Status of India's bilateral relations with the five countries:
Kazakhstan
Kazakhstan is India's strategic partner, with leaders of both countries visiting the other frequently.
Five visits by Kazakh first President Nursultan Nazarbayev to India. Modi visited Kazakhstan in 2015 and 2017.
Among Central Asian nations, India has the highest trade (US $1.9 billion in 2020-21) with Kazakhstan, primarily oil imports.
A unique experiment in UN peacekeeping where Kazakh troops are participating as part of Indian battalion in United Nations Interim Force in Lebanon (UNiFIL).
Regular joint military exercise KAZIND is carried out with the aim to strengthen military diplomacy between the two countries.
Around 8,000 strong Indian community in Kazakhstan, including 5,000 medical students.
Kyrgyzstan
Kyrgyzstan is a strategic partner, with six visits by Kyrgyz presidents to India. Modi visited the country in 2015 and 2019.
Former Kyrgyz President Sooronbay Jeenbekov attended Modi's swearing-in in May 2019.
Five telemedicine centres were established by India in the Kyrgyz Republic.
India extended US $200 million lines of credit in 2019.
Joint collaboration in high altitude research - Kyrgyz India Mountain Biomedical Research Centre
Gifting of a Bhabhatron, the indigenous machine developed by Indian scientists for cancer treatment.
Annual Joint military exercises Khanjar
Strong Indian student community over 15,000.
Tajikistan
A strategic partner with six visits by President Emomali Rahman to India. The PM visited Tajikistan in 2015.
Strong cooperation in defence including India-Tajik Friendship hospital.
The stance of the two countries on Afghanistan is similar.
Uzbekistan
A strategic partner, with frequent high-level visits between top officials of the two countries.
Uzbek presidents have visited India seven times. Modi has visited in 2015 and 2016.
Cooperation between Uzbekistan's Andijan region and Gujarat.
Bilateral trade is around the US $300 million.
India-Uzbek-Iran trilateral Working Group on Chabahar on the joint use of Chabahar Port.
India has extended a line of credit worth US $1 billion in 2018. So far, four projects worth US $450 million has been approved.
Projects under High Impact Community Development in the implementation stage.
Setting up of campuses by Indian Universities like Sharda, Amity and Sambhroom in Uzbekistan.
Setting up of medical units and centres of Medanta Hospitals.
US $50 million worth of investment by Cadilla, an Indian multinational company, in setting up a pharmaceutical plant.
Entrepreneurship Development Centre was set up by India in 2019.
Turkmenistan
Presidents of Turkmenistan have visited India three times. Modi visited the country in 2015.
India set up the first Yoga and Traditional Medicine centre in Central Asia in Ashgabat in 2015.
India established IT Centre in 2011 and an Industrial Training Centre in 2002.
Regular Indian Technical and Economic Cooperation (ITEC) programmes and Indian Council for Cultural Relations (ICCR) courses.
To be informed of the latest articles, subscribe: