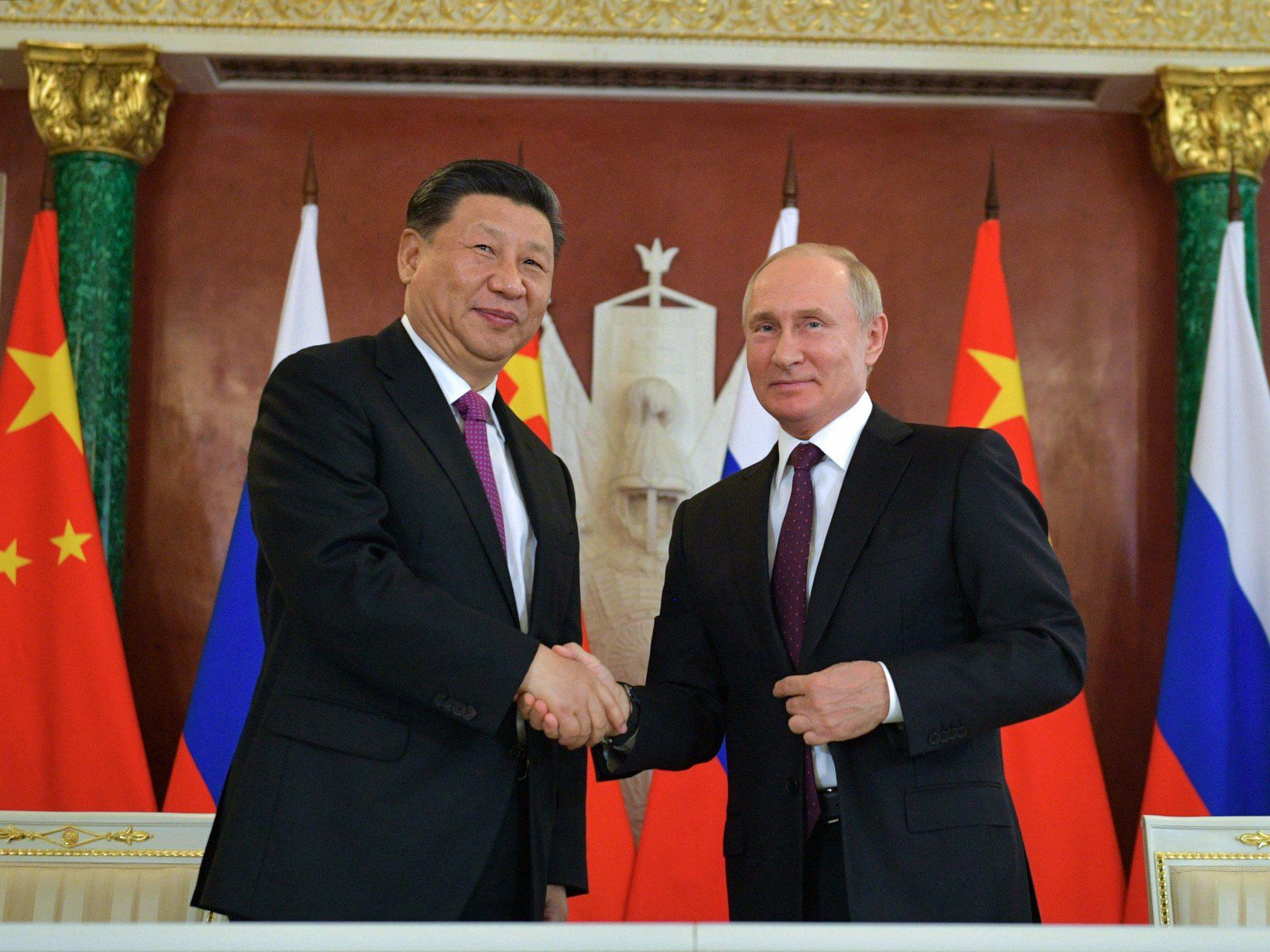 BERLIN: It has never been hard to read Vladimir Putin. A swaggering, laconic figure on the world stage, he has waited patiently for his moment to try to recreate the might of the Russian state.
One month into 2022, that day may have arrived, though the Russian leader will likely have to share it with Chinese President Xi Jinping.
It is a moment that both leaders have been preparing for since Xi came to power in 2013. And the crisis at the Ukraine-Russia border is giving both Xi and Putin an opportunity to try to remake the world in their image.
President Xi, the showy and flamboyant leader of a country which frowns upon ostentation and display, is as close to Putin temperamentally as it is possible for a Chinese leader to be.
The two certainly seem to share chemistry.
Like Putin, Xi is a man who likes to take bold gambles. In a relatively short time, Xi has carried out sweeping change in China. He has equated himself with patriarchs Mao Zedong and Deng Xiaoping and aims to take power for an unprecedented third term later this year. He has made a risky communist reset, turning policies and politics leftward.
Putin, meanwhile, has amended the law to give himself a ticket to stay on as president until 2036.
Xi and Putin are chat buddies
Since coming to power in 2013, Xi has assiduously cultivated Putin while making his own ambitions progressively clear. At the last Chinese Communist Party congress in 2017, Xi declared China had arrived. He proclaimed the start of a "new era", saying China had reached an "intermediate" stage of development during which it will play a greater role in shaping world affairs.
Since he became president, Xi has held 37 video meetings with Putin. During their most recent virtual chat last month (Dec 2021), Putin announced that he would be the first world leader to meet Xi in person since the start of the pandemic. He announced that he would attend the opening ceremony of the Winter Olympics next week (February 4).
During the last video chat, Xi called for "more joint actions to effectively safeguard security interests" of the two countries, while Putin hailed the bilateral ties "as at an all-time high, reflecting a high level of strategic mutual trust".
United by a shared distrust of democracy, China and Russia have also been looking for new ways to deepen their "comprehensive strategic partnership" to counter their mutual foe: the liberal, democratic West.
It is a relationship that has worked to Russia's advantage but there seems to be an even bigger potential payoff for Xi: Taiwan. The calculation seems to be that China will help Russia circumvent severe international sanctions that the US says it will apply if Russia invades Ukraine.
And, in turn, Beijing will bank upon Russian support should it decide to invade Taiwan which top US intelligence agencies and officials say is a distinct possibility.
In several recent interviews and press briefings, Chinese foreign minister Wang Yi has made clear what the China-Russia engagement is pinned upon. Stressing their "strategic relationship", Wang Yi said both countries have "jointly opposed interference in other countries' internal affairs, unilateral sanctions and long-arm jurisdiction."
China was quick to support Russian forces when they were deployed this month (January 15) to Kazakhstan to help quell unrest. In a phone call with Russian foreign minister Sergei Lavrov, Wang Yi had said China supported the Kazakhstan president's "assessment" that the source of the unrest was "terrorist activity".
Wang added that China and Russia should "oppose external forces interfering with the internal affairs of central Asian countries", and prevent "colour revolutions" and the "three evil forces" from causing chaos, according to a readout of the call.
China defines the "three evil forces" as religious extremism, territorial secessionism and violent terrorism and has described them as the cause behind the instability in Xinjiang province.
Beijing has been careful not to spell out a position on Ukraine. It has come under similar international scrutiny over human rights issues and territorial claims on the democratically self-ruled island of Taiwan. Both situations have almost evolved in apparent concert.
Ukraine-for-Taiwan?
While Moscow has sent troops to the border with Ukraine, Beijing has greatly increased military overflights into Taiwanese airspace. It made a record number of incursions into Taiwanese airspace last year. There were more incursions last week.
Beijing likely wants to ensure that if it were to take military action against Taiwan, "the Russians wouldn't do anything," said Angela Stent, professor emerita and director of the Center for Eurasian, Russian and East European Studies at Georgetown University in the US.
"I think both sides recognise, Putin knows, that if he invaded Ukraine, China [isn't] going to send military help," she said on CNBC on Thursday (January 27). "But they'll remain completely neutral and that allows them to do whatever they want in what they consider to be their sphere of influence."
It is a fear that has found an echo on Capitol Hill. US Representative Michael McCaul, the top Republican on the House Foreign Affairs Committee, last week said he expects Russia to invade Ukraine, and China to use military action to retake Taiwan. "My prediction is that you're going to see Russia invading Ukraine in the next month," he said, adding that China "would invade Taiwan" after the Olympics.
However, speaking to News9, foreign policy expert Peter Drysdale, Emeritus Professor and Head of the East Asia Forum at Australian National University, cautioned against reading too much into the current coordination between China and Russia.
"China's interests align with Russia's in checking US power in Europe but it's far-fetched to see what is going on in the Ukraine as a Chinese-Russian strategy. The escalation of this conflict is in no one's interest," he said.
Prof Drysdale also observed that post-World War II US-led geopolitics had changed but a serviceable replacement had not yet appeared. "The geopolitical map has already changed and the unipolar moment is over, but a framework for establishing a stable geopolitical equilibrium is still to be found," he said.
Growing trade and economic ties
The clearest indication of the growing Russia-China ties is their burgeoning trade. China's trade with Russia jumped by 35.8 per cent last year to a record US$146.88 billion, according to Chinese customs data.
China has been Russia's largest trading partner since 2010, and is also the largest buyer of its commodities, taking in 14 per cent of Russian exports in 2020.
Some in Russia fear overdependence on China could result in increased Chinese influence in the Russian economy, for instance by investment in the crucial energy sector.
For its oil supplies, China banks on Russia, its second largest source of crude imports after Saudi Arabia. But it has also been steadily cultivating ties with Iran in a bid to build its ability to withstand geopolitical shocks. In 2019, gas started flowing to China through Russia's 3,000km Power of Siberia pipeline in a 30-year deal signed in 2014 between Gazprom and the China National Petroleum Corporation after a decade of negotiations.
Conflicts inevitably put pressure on oil prices. "Pressures on energy prices are already evident and will intensify as the chance of conflict escalates. And a conflict in middle Europe will undoubtedly throw recovery from the pandemic crisis off course," Prof. Drysdale said.
Militaries that drill together fight together
In 2019, China-Russia relations took on military overtones, when their navies began holding joint drills along with Iran, an inimical American foe, off the Straits of Hormuz, a major choke point for oil trade.
Last week, China and Russia held a three-day naval drill which included three Russian ships including a destroyer, two Chinese vessels and 40 PLA marines who were joined by Iran's Revolutionary Guard troops. The third joint naval drill between the countries since 2019 was conducted to ensure "maritime security".
In October last year, Chinese and Russian warships also conducted joint naval drills in the western Pacific for the first time, completing a near circle around Japan's main island in moves Tokyo described as "unusual". Beijing and Moscow countered that these exercises were aimed at maintaining peace and stability in the volatile region.
Less than a month later, on November 19, the Chinese and Russian militaries sent bomber flights into Japanese and South Korean air defence zones, forcing Seoul to scramble its fighter jets in response. This time, Japan was more critical in its response.
China needs stability more than Russia
As a potential superpower whose economy is inextricably intertwined with the global economy, China needs stability. IMF expects its economy to grow at a measly 4.8 this year. But even that could be at risk if a liquidity crunch in its property sector and a crackdown on high growth sectors intensify.
Yet, however 2022 plays out for China's economy, China cannot afford too much political instability in a year when Xi is seeking his third term. Russia, on the other hand, has less to lose because it is used to being an East European outlier.
There is also the issue of a growing disparity of power and standing between the two. Russia's increasing fear of its diminishing importance could weigh upon the relationship and create friction between the two.
Additionally, there is also Russia's close relationship with India, which Putin has described as "close and special". India, which is expected to again be the fastest growing economy in the world in 2022, is facing Chinese aggression on its border. And Russia is a major arms supplier to India.
In a development which could have implications for India, Chinese and Russian diplomats on Wednesday (Jan 26) agreed to co-ordinate on Asia. A statement said the two sides agreed to "strengthen strategic communication and coordination on Asian affairs, jointly maintain regional peace and stability, and promote cooperation and development".
'India, Japan can mediate in Ukraine crisis'
Interestingly, Prof Drysdale pointed out that China's arch-rivals India and Japan could help mediate in the Ukraine standoff.
"India and Japan are two powers with a structure of assets and interests that together may be capable of mediating this European standoff," he said.
Elaborating, he said that India and Japan because of the nature of their relations with Russia and their different assessment of NATO's eastward expansion -- despite their general alignment with the United States -- were in a position to represent an alternative way.
This could mean conceding Ukrainian and Georgian cooperation with NATO, but without membership, he said.
"There is no doubt that conflict between NATO and Russia would drive Russia closer to China. That is in neither Indian nor Japanese interests. The unstable geopolitical balance now requires the intermediation of powers like Japan and India to forge solutions like this that can reduce the chance of conflict," Prof Drysdale said.
To be informed of the latest articles, subscribe: