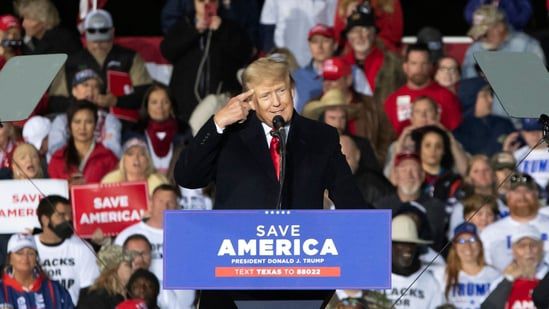 AUSTIN :Former President Donald Trump has said he will pardon people charged with criminal offenses linked to the January 6 riot at the Capitol Building should he win in 2024.
Trump, who has flirted with running for the Republican presidential nomination, made the statement during a rally in Conroe, Texas, on Saturday night.
Addressing the crowd, Trump said: "If I run and if I win, we will treat those people from January 6 fairly. We will treat them fairly.
"And if it requires pardons, we will give them pardons. Because they are being treated so unfairly.
"What that unselect committee is doing and what the people are doing that are running those prisons is a disgrace."
Trump's pardon promise was lauded by January 6 rally organizers and attendees who have been issued with subpoenas by the House committee investigating the riot at the Capitol.
"Stop the Steal" organizer Ali Alexander shared a message with his 18,000 Telegram followers, which read: "Thank you, Mr. President. Pardon and commute sentences. Due process."
Last year, Alexander denied any planning, violence or lawbreaking during the deadly riot at the Capitol, adding: "Any suggestion to the contrary is factually false."
But Trump's comments were condemned by Representative Eric Swalwell (D-CA) who tweeted: "The GOP is a chaos party.
"Trump promises to pardon cop-killers. This is what it comes down to, America. Will you choose voting or violence to resolve our differences? #VotesOrViolence."
Newsweek has contacted the White House for comment.
On January 6, 2021, thousands of Trump supporters stormed the Capitol Building in a bid to overturn his defeat in the 2020 Presidential Election.
Those who breached the Capitol believed Trump's false claims the election had somehow been stolen from him and that Joe Biden's victory was illegitimate.
The riot resulted in the death of Trump supporter Ashli Babbit, who was fatally shot, and extensive damage to the Capitol Building.
Capitol Police officer Brian Sicknick died the following day after he suffered two strokes, and four others who were present later died by suicide.
More than 700 people have been charged with criminal offenses linked to the riot at the Capitol.
A House select committee has since been created to investigate the deadly storming of the Capitol.
The select committee has since claimed to have found information that fake Trump electors met one month after the election in a bid to overturn the vote.
In a January 28 tweet, the committee said: "The select committee has obtained information that groups of individuals met on December 14th, 2020, in seven states carried by President Biden, then submitted bogus slates of electoral-college votes for former President Trump."
To be informed of the latest articles, subscribe: