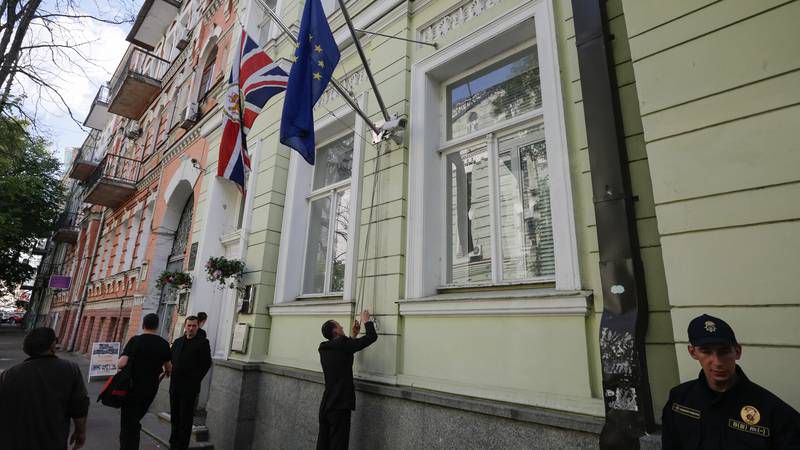 London/Brussels: Britain has begun withdrawing some staff and their dependents from the embassy in Kiev, the Foreign Office said on Monday, as military tensions between Ukraine and Russia soar.
The move follows a decision by the United States to pull from Ukraine all family members of diplomats and non-emergency personnel at the US embassy in Kiev in response to the threat of a Russian invasion.
"Some embassy staff and dependants are being withdrawn from Kiev in response to the growing threat from Russia. The British Embassy remains open and will continue to carry out essential work," the British Foreign Office said in a statement.
There is a "very significant" risk that Russia will mount an invasion of Ukraine, British Deputy Prime Minister Dominic Raab told the BBC on Sunday.
The West says there are more than 100,000 Russian troops amassed at the border with Ukraine that could mount an attack at any time.
Weeks of intensive diplomacy has failed to resolved the crisis. Moscow, meanwhile, has repeatedly rejected the notion it is preparing an invasion.
Kiev criticized the embassy reductions as overly cautious and "premature."
The European Union's top diplomat, Josep Borrell, indicated Monday that the bloc's representatives would stay put for now. The EU has a delegation in Ukraine, but member states also have their own national embassies.
"We are not going to do the same thing because we don't know any specific reasons," he told reporters at an EU foreign ministers meeting in Brussels, adding that it wasn't necessary to "dramatize" the situation as long as talks with Moscow continue.
The 27 ministers are set to speak with their US counterpart Secretary of State Antony Blinken.
Borrell said EU staff would stay "unless Secretary Blinken gives us information that justifies a move."
To be informed of the latest articles, subscribe: