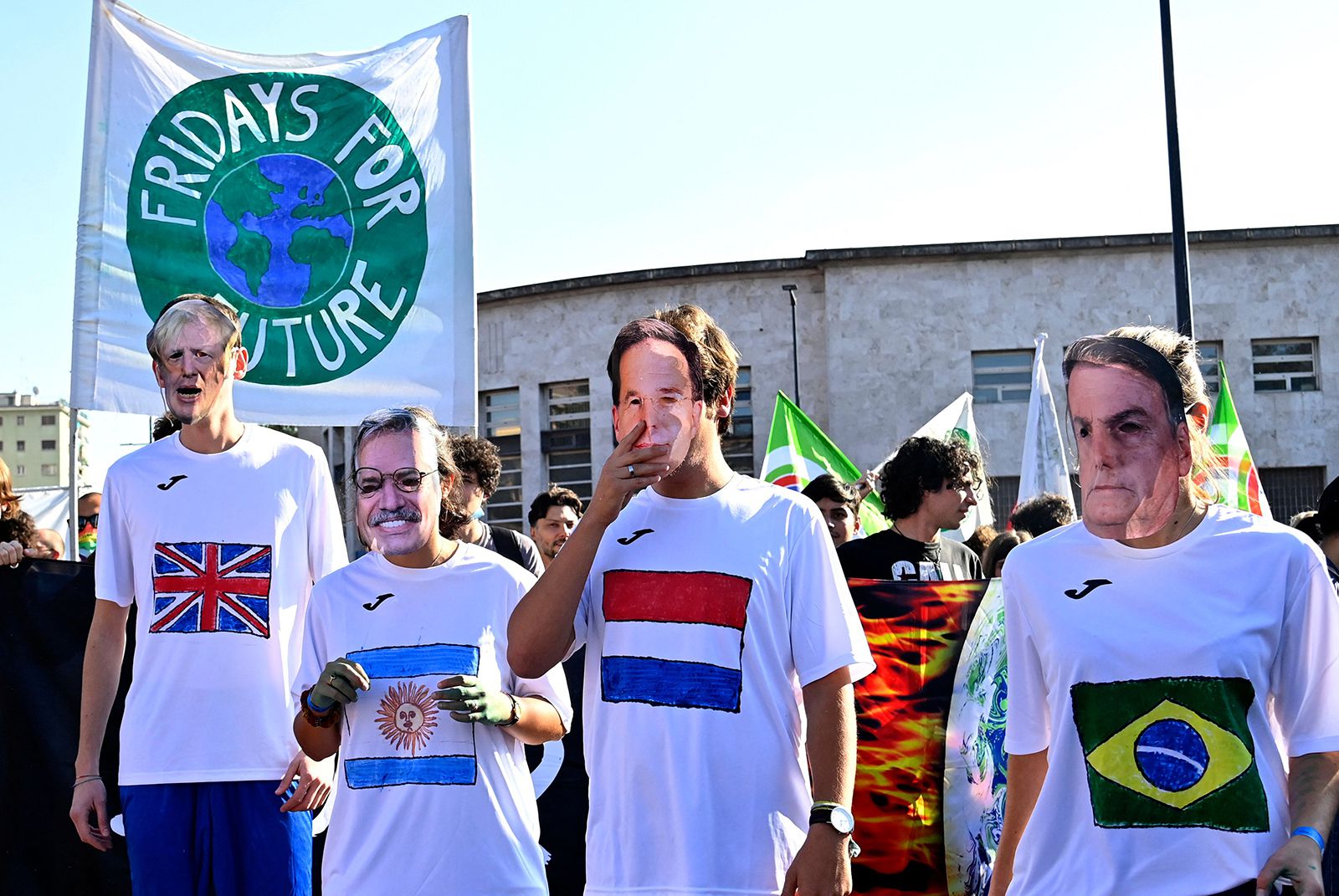 ROME: Protesters marched in Rome on Saturday amid the Group of 20 (G-20) summit, demanding action on climate change and equal distribution of COVID-19 vaccines.
Footage captured by Reuters showed large groups of young people holding signs addressing the G-20 summit, a gathering of 20 of the largest economies in the world at the Eternal City.
The demonstrators could also be heard chanting, dancing and singing in protest of both causes.
"We are holding this protest for environmental and social issues and against the G20, which continues undaunted on a path that has almost led us to social and ecological failure," protester Edoardo Mentrasti said, Reuters reported.
Leaders at the G-20 summit discuss multiple global issues, including the pandemic, taxes and climate change.
Thousands of people gathered during the protests on Saturday according to Reuters, and a group of people marched holding a banner that read "stop patents, vaccines are a global right," according to Reuters.
Reuters reported that Rome was on high alert this weekend in preparation for the summit. The city deployed 6,000 police officers and 500 soldiers to maintain order, according to the wire service.
The news comes as U.S. lawmakers are currently working to pass two pieces of legislation that include measures to address the climate crisis. However, these bills have hit several roadblocks amid disputes between centrist Democrats and other members of the party.
Congressional Democratic leadership had hoped to pass a bipartisan infrastructure deal before President Biden's trip to Rome, but the vote was punted yet again after House progressives said they would not vote for a bipartisan infrastructure bill without assurance of the Democrats' social spending package.
In addition, the World Health Organization (WHO) as well as Prince Harry and Meaghan, Duchess of Sussex have called on the G-20 leaders to renew their commitment to vaccine equity.
"When the leaders of the world's wealthiest nations met at the G7 Summit in June, they collectively announced that 1 billion doses of COVID-19 vaccines would be sent to low- and low-and-middle-income countries to help vaccinate the world. Pharmaceutical companies have pledged almost the same, the Duke and Duchess, along with WHO Director-General Tedros Adhanom Ghebreyesus wrote.
"Yet, as several nations still don't even have enough vaccines for their own health workers, the world is left asking: Where are the doses?" the letter, posted on WHO's website, said.
To be informed of the latest articles, subscribe: