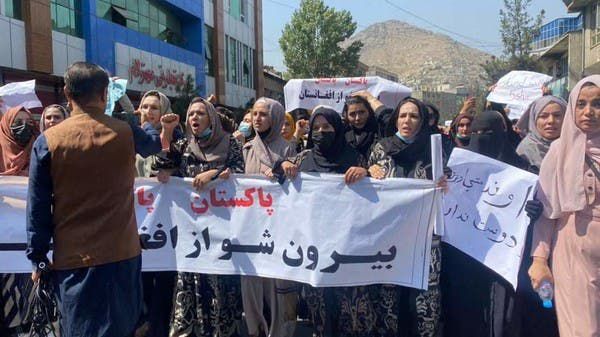 Kabul: As the Taliban consolidated its hold over Afghanistan, hundreds of people protested in Kabul on Tuesday chanted anti-Pakistan slogans. Reports said the Taliban fired shots to disperse the protests in the capital. The rally was mainly led by women outside the Pakistan embassy with at least 70 people taking part in the demonstrations.
The development comes as Pakistan's intelligence ISI chief Lt Gen Faiz Hameed met with Mullah Baradar during his visit to Kabul on Monday.
Taliban spokesman Zabihullah Mujahid had confirmed that the ISI chief had met Baradar. Taliban had earlier assured Pakistan that Afghanistan's territory won't be used for terrorist activities amid the Tehrik-e-Taliban Pakistan(TTP) threat in the border areas.
Last week at least three Pakistan paramilitary soldiers were killed and 20 wounded in a suicide attack in Quetta as the.:...
Kabul: bbc: The Taliban have fired shots to disperse the crowd at a large protest in the Afghan capital, Kabul.
Video footage from the scene shows people running to safety, while heavy gunfire can be heard in the background.
Thousands of protesters took to the streets on Tuesday to demand women's rights and denounce Taliban rule.
Protesters also chanted anti-Pakistan slogans, as many believe neighbouring Pakistan supports the Taliban, which the country denies.
The demonstrations come one day after the leader of the resistance forces, Ahmad Massoud, called for a "national uprising" against the Taliban.
A video sent to the BBC shows Taliban fighters firing their guns into the air - a move the group banned last week after several people were reported killed after celebratory aerial fire.
Some journalists were prevented from filming at the rally, and Afghanistan's Tolo News agency reported that its cameraman was arrested along with some other local and foreign media workers.
Many people in Afghanistan blame neighbouring Pakistan for the Taliban's return to power, and protesters chanted "death to Pakistan" and "we don't want a Pakistani puppet government" at Tuesday's protest.
Pakistan has long been accused by the United States and elsewhere of providing support for the militants.
ANALYSIS: What rise of Taliban means for Pakistan
On Monday, there were unconfirmed reports that Pakistan had helped the Taliban by using drones to bomb Afghanistan's Panjshir Valley - where fighting continues between militant fighters and resistance forces.
Pakistan military spokesperson Maj Gen Babar Iftikhar denied this.
"Pakistan has nothing to do with what is happening inside Afghanistan, be it Panjshir or anywhere else," he told the BBC.
To be informed of the latest articles, subscribe: