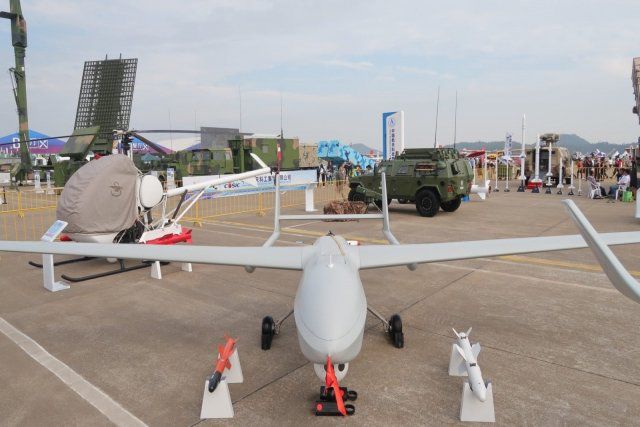 Chinese "Rainbow" CH-92A armed drones delivered at Bataitsa Military Airport near the Serbian capital of Belgrade, Serbia. A Ilyushin Il-78 cargo plane landed in Bataitsa, which transported the CH-92A to Serbia, local media reports said quoting military sources. The Serbian government bought the drones for reconnaissance but they can be armed with bombs and missiles. They will be operated by the Serbian Air Force and launched from the locally-produced FAP 2228 truck.
The Serbian Military Technical Institute (VTI) have been in China for some time working with their Chinese counterparts to integrate the Chinese drone system with the Serbian locally made under-development Pegaz (Pegasus) drones. Serbia will take delivery of 9 reconnaissance/combat drones with a possible follow-up order of an additional 15 drones. The drones will come equipped with the FT-8D air-to-surface missile confirming their armed role. The Chinese manufacturer will also transfer technology to help mature the Pegasus.
The "CH" stands for "cai hong", meaning "Rainbow" in Mandarin. The CH-92A can fly for 8 to 10 hours but is actually at the smaller end of the range, with larger Rainbows carrying weapons payloads of more than 300 kilograms. the CH-92A drone has a wingspan of just under 10 meters, an operational radius of 150 kilometers at altitudes of up to 5,000 meters and speeds of up to 200 kilometers an hour. It can carry two guided missiles and is used for reconnaissance...
The Vecernje Novosti newspaper reported that Chinese "CH-92A" drones have arrived at the Bataitsa Military Airport near Belgrade.
A cargo plane landed in Bataitsa, which transported CH-92A drones to Serbia. The exact number of drones has not been established, but the acquisition of two systems (i.e., six of this type) is capable of carrying missile weapons and grenades.
The CH-92A wingspan is less than 10 meters. The flight range is 150 km. The drone can fly at a distance of 5 km and at a speed of up to 200 km/hr.
The CH-92A was designed for bombardment and correction of the fire path.
In March, Serbian President Aleksandar Vučić said Europe was concerned about Serbia's relations with China, but the Balkan nation has moved forward with the acquisition of weapons from the People's Republic
To be informed of the latest articles, subscribe: