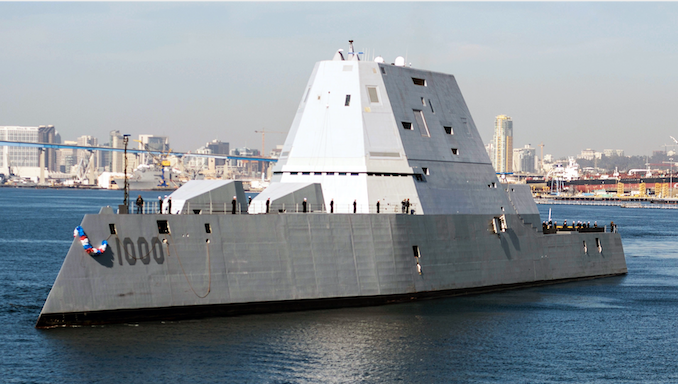 US.M: Well over half decade behind schedule, and coming at over four times the originally planned cost, the U.S. Congress has pressed the Navy to gain greater returns from the investment in the Zumwalt Class destroyer program by equipping the ships with a revolutionary new weapons system. One Zumwalt Class ship is currently in service with two more on the way, for a total of three of an originally planned fleet of 32 with the other 29 cut due to massive cost overruns and performance issues. Each ship has set the Navy back over $7.5 billion. While the Zumwalt Class ships were originally intended to deploy long range guns which could fire over the horizon, compared
by some to a modern battleship, issues with the weapons and their munitions means the stealthy destroyers now rely on a relatively small arsenal of 80 vertical launch cells - considerably less than older Arleigh Burke Class ships or new Chinese destroyer classes. A number of propositions have been made to arm the Zumwalt, including electromagnetic railguns once the technology matures which could benefit from the warships' massive power generating capabilities. More recently, however, the idea of integrating the Conventional Prompt Global Strike hypersonic missile has gained considerable traction.
Captain Kevin Smith, the Zumwalt Class destroyer Program Manager, stated at the Surface Naval Association Annual Symposium in January regarding the possible integration of the new hypersonic missile: "This would be the perfect platform for Conventional Prompt Strike." The missile, currently under development, is intended to bring the range and speed of a nuclear ICBM to a conventional attack, allowing it to be used against non-nuclear adversaries
and to neutralise targets across the world without escalation to nuclear war. It is widely speculated to be intended as a strategic weapon and as a tool for coercion to complement nuclear missiles but be easier to use. The missile is currently confirmed for integration onto Block V Virginia Class submarines and four of the Navy's Ohio Class submarines. The House Armed Services Committee's Strategic Forces Subcommittee has pressed for the integration of the missile onto the stealth destroyers, which could lead to their removal from potential tactical roles supporting ships such as the Arleigh Burke Class destroyers
and instead relegate them to a purely 'behind the frontlines' strategic role like ballistic missile submarines. Given the Zumwalt's significant performance issues, allocating it a less strenuous strategic role in which it is unlikely to come into contact with enemy surface ships rather than a tactical role could well be the best way to capitalise on its stealth capabilities and large weapons capacity without placing it in the firing line and exposing it to ship-to-ship combat, where it is not expected to perform well.
To be informed of the latest articles, subscribe: